Between desk design, form and function, there are a lot of options. Here's how to narrow it down.
When furnishing office space, one of the first questions that come to mind is what kind of desks to provide for your workforce. The choices seem to be endless, but there are several things that office managers should think about before pulling the trigger. Rightsize Facility Performance is an expert in office furniture, and provides food for thought on the key components of a workstation selection, including design, comfort, function, flexibility and size.
The Look
The way a desk looks within an office space can set the tone for the whole space. From sleek and shiny, to bulky and retro, the choices go on for miles. So start by thinking about what kind of vibe you're going for, and pick a shape from there. The other component is the color and finish of the workstation. Most newly constructed furniture have customizable options that allow you to choose, like the Adaptabilities line by Rightsize partner Global Total Office. Available with over 370 components and 324 color combinations, it's easy to create personalized executive offices, reception stations, work spaces and more.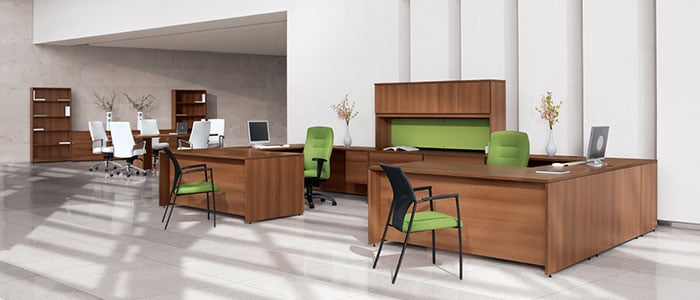 The Function
Another important consideration when planning desks is how they are going to be used. A private office is going to be configured differently than a bench-style workstation, making room for people to meet. And some work environments have larger desks that can be configured differently to fit multiple uses. When shopping for function, consider desk space, comfort and if it will be used mostly for typing, meetings or drafting, and how much surface space would be needed in each scenario. The Divide is a good example of a desk system that can be situated in a variety of ways, either made for a private office or something out in the open. There is a storage option and privacy panels to make it work no matter where it's placed.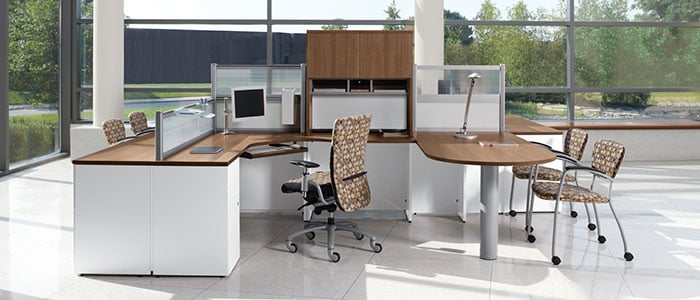 Flexibility
In this day and age, finding ways to configure office space in a multitude of ways is a win-win for all, especially businesses that might not have a solid idea as to where they will be in a few years. To be able to remove a panel here and a cabinet there to squeeze in another desk can be a huge benefit. Another important consideration is working with a vendor that can track down the items that you need on a long term basis. For example, what happens if your office grows by 50 people and you suddenly need 50 more workstations? Consider the future when you buy in the present to avoid long-term headaches. The eO+ workstation by Global Total Office is an innovative modular panel and desking system, where panels can be configured as freestanding or combined with coordinating desks and storage components. The eO+ panels are available with corkboard insets, dry erase modules or glazed inserts. Just the right kind of flexibility for a growing office.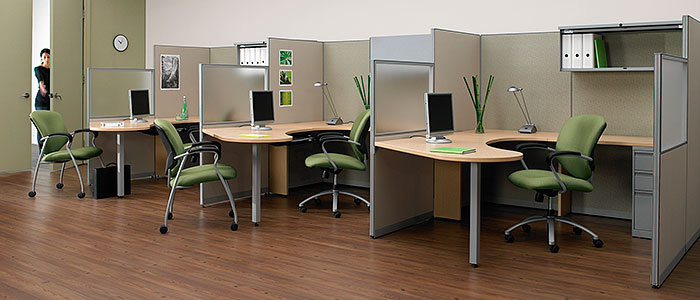 Need help finding the right furniture for your office? Rightsize can help.
Contact us
for more information. - See more at: http://www.rightsizefacility.com/Choosing_the_Right_Workstation#sthash.oU3Q3rTx.dpuf
About Rightsize
Rightsize Facility Performance, headquartered in Chicago, IL, is a nationwide office interiors and facilities services firm serving corporate clients in transition. Founded in 2004, Rightsize employs an industry leading "Design/Furnish" approach to ensure seamless workplace transitions and is a single source for interior design, furniture procurement, delivery and installation, asset disposition, facility decommissioning and ancillary project services. Through its Office Furniture Center brand, which includes OfficeFurnitureCenter.com and a 200,000-square-foot showroom, Rightsize also provides a single source for quality workstations, desks, seating, filing, conference and reception furniture. For more information please visit www.rightsizefacility.com.