Going Green isn't just a trend for us — it's the way we choose to do business.
Rightsize was built on a foundation of reusing, recycling and renewing resources to make sure that high-quality, reasonably priced office furniture is available for our clients. We help make sure that less than 5% of the assets we manage end up in a landfill. Doing right by the environment — and our clients — is our top priority.
The Rightsize Asset Lifecycle starts with decommissioning. Rightsize is a pioneer in asset decommissioning, with a proven process that allows us to return a workspace to its original, broom-swept condition. Our specialists will remove all non-affixed trade assets, ranging from office furniture, technology, machinery and industrial racking. Instead of dragging these assets to the landfill, Rightsize makes every attempt to extend the life cycle through the resale, manufacturing and recycling of office furniture.
Furniture assets with resale value are credited to the client, as determined by a net aggregate value analysis in which we correlate the cost of removal with the potential resale value. Large uniform inventories of seating and systems furniture from Grade A manufacturers like Herman Miller and Steelcase provide the greatest credit opportunity.
Rightsize also uses EPA-certified methodologies to dispose of outdated technology left in a decommissioned space. Not only do our efforts reduce the amount of non-biodegradable material in landfills, they also prevent your data from ending up in the wrong hands. Rightsize is equipped to dispose of computer monitors, laptops, printers, scanners, copiers, fax machines and telephone equipment.
So whether your business is relocating or renovating, Rightsize can help minimize your impact on the environment and help maximize the lifespan of your furniture.
The Rightsize Asset Lifecycle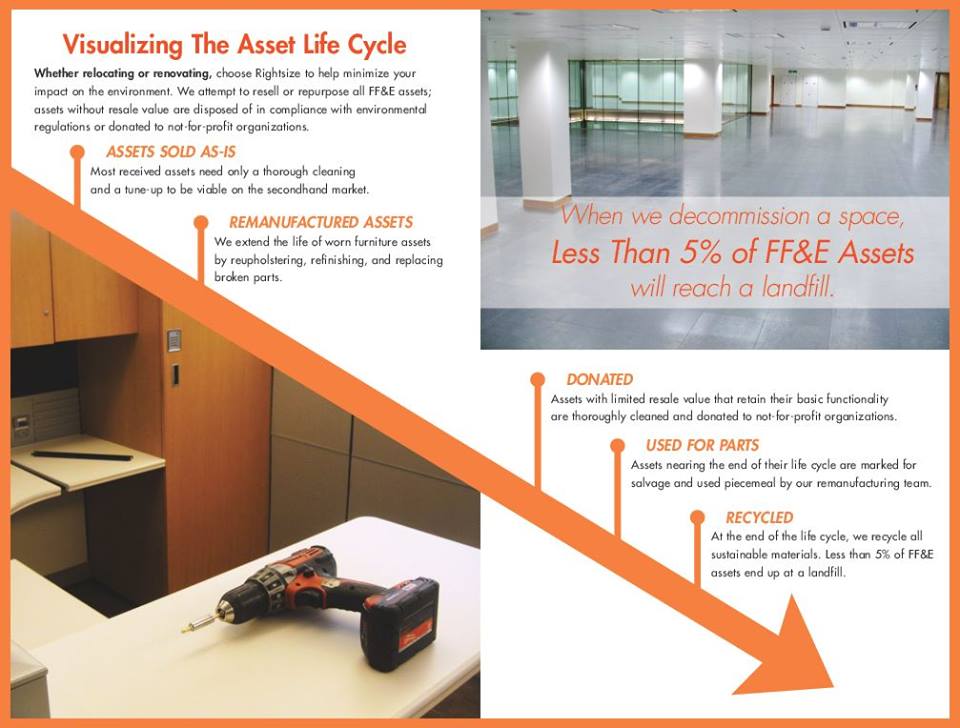 Assets Sold As Is — When furniture is in great condition, we provide a thorough cleaning and tune-up, making the products available, just like new, for a fraction of the price.
Remanufactured Assets — We extend the life of furniture assets by giving them a facelift by reupholstering, refinishing and replacing broken parts.
Donated — Assets with limited resale value that retain their basic functionality are thoroughly cleaned and donated to not-for-profit organizations.
Used For Parts — Assets nearing the end of their life cycle are marked for salvage and used piecemeal by our remanufacturing team.
Recycled — At the end of the life cycle, we recycle all sustainable materials. Less than 5% of FF&E assets end up at a landfill.
About Rightsize: Rightsize Facility Performance is a nationwide provider of pre-owned, refurbished and new office furniture. We are committed to promoting sustainable work environments and business practices based on sound economics, environmental protection and social responsibility. To learn more about our process and selection, please don't hesitate to contact us.