The benefits of providing an ergonomically sound office space for employees far outweigh the expense. It can improve employee productivity, enhance worker retention and lead to increased profits. Best practices in ergonomics can truly impact the success of a workplace.
When furnishing an ergonomically friendly office, make sure to carefully examine the equipment before making any purchases. It's a good idea to have a planning committee of 3-6 people to decide the furniture. It's also important to consider quality upfront, which could save your business money on a long term basis. But if cost is an issue, consider buying used or refurbished furniture to ease the expense. (Browse our inventory here).
When investigating your furniture options, cast a wide net. There are some great products on the market taking an innovative approach to ergonomics.
New Trends in Ergonomic Furniture:
The Adjustable Desk – An adjustable height desk allows workers to stand on the job. Research shows that there are numerous health benefits for standing up even for just 15 minutes each hour. When it comes to ergonomics, this is a great option to provide employees. Some businesses will create a pod of standing desks where employees can work remotely, while stretch their legs and increasing blood flow.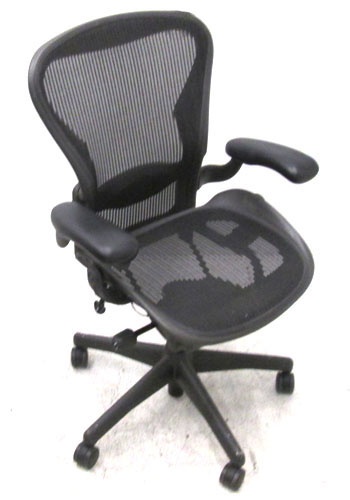 The Ultimate Desk Chair – Arguably the most critical piece of furniture in the world of ergonomics is the desk chair. The most exemplary chair from an ergonomic standpoint is the Aeron Chair by Herman Miller. But that isn't the only option out there. If you're looking for a chair that won't be a pain in the rear, find one with the following features:
Adjustable height, ranging from 15 to 20 inches
Moveable backrest with a range of 12 to 20 inches
Wheels
Lumbar support
But remember, creating a healthy culture at work is more than just providing comfortable working conditions. Business owners and office managers should encourage employees to take breaks to stretch. Providing large computer monitors and adequate lighting can also make a difference in employee health and satisfaction.
If you have any questions about ergonomics or creating a healthy work environment, please do not hesitate to contact us.
About Rightsize:
Rightsize Facility Performance, headquartered in Chicago, IL, is a nationwide office interiors and facilities services firm serving corporate clients in transition. Founded in 2004, Rightsize employs an industry leading "Design/Furnish" approach to ensure seamless workplace transitions and is a single source for interior design, furniture procurement, delivery and installation, asset disposition, facility decommissioning and ancillary project services. Through its Office Furniture Center brand, which includes OfficeFurnitureCenter.com and a 200,000-square-foot showroom, Rightsize also provides a single source for quality workstations, desks, seating, filing, conference and reception furniture. For more information please visit www.rightsizefacility.com.