The Rightsize Product of the Month is the Knoll Barcelona Chair, available now through Relic Furniture Gallery
One of the most widely appreciated objects of design in history, and an icon of the modernist furniture movement, the Knoll Barcelona Chair is a tribute to the marriage of design and durability. Perfectly configured for an office lounge area, private seating area, lobby, or even home office, these chairs are iconic in their own right.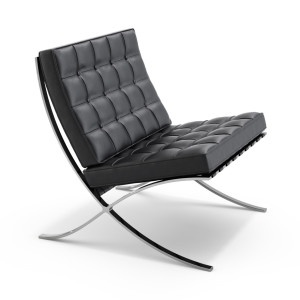 Available now through Relic Furniture Gallery, these authentic Knoll Barcelona lounge chairs have the specially optioned Sabrina black leather tufted cushions and a chrome base.
These chairs retail for over $7100 each with the Sabrina leather, and are in like-new condition for less than half of their retail price. These chairs have been in the homes and offices of the affluent since they were released decades ago, and are available to our loyal clients at a price unavailable anywhere else.
Visit our showroom to see them in person and take advantage of an opportunity to have these gorgeous chairs in your own home or office.
About Relic Furniture Gallery
Founded by Mason Awtry, President and Owner of Rightsize Facility Performance, Relic Furniture Gallery is a showroom and online store featuring vintage, Mid-Century Modern and one of a kind collectible furniture. The curated selection of pieces by Mies van der Rohe, Herman Miller, Knoll, Kittinger, Baker and others, is available online at www.relicfurnituregallery.com and in person at the Relic showroom at 5000 West Roosevelt in Chicago. Relic is the newest addition to the Rightsize Facility Performance family of companies. It joins Office Furniture Center (www.officefurniturecenter.com), a 225,000-square-foot showroom located in Chicago, IL, offering clients a single source for quality office furniture.
About Rightsize:
Rightsize Facility Performance, headquartered in Chicago, IL, is a nationwide office interiors and facilities services firm serving corporate clients in transition. Founded in 2004, Rightsize employs an industry leading "Design/Furnish" approach to ensure seamless workplace transitions and is a single source for interior design, furniture procurement, delivery and installation, asset disposition, facility decommissioning and ancillary project services. Through its Office Furniture Center brand, which includes OfficeFurnitureCenter.com and a 200,000-square-foot showroom, Rightsize also provides a single source for quality workstations, desks, seating, filing, conference and reception furniture. For more information please visit www.rightsizefacility.com.