How the moveable wall adds flexibility to office culture
When most people think about office furniture, they focus on tables, chairs and desks. But a little known, highly functional, furniture asset is the moveable wall. These custom-built panels can serve as a space divider, a way to create private spaces within an office environment, or as a branding tool. "Every detail of the finish is customizable," says Rightsize Account Manager Aryn Shaw. That includes the size, color, finishes and overall shape and configuration. And they are an innovative way to create a flexible office environment.
Moveable, or demountable, walls are set in a framed panel that can extend from floor to ceiling. The frame itself is available in multiple different finishes. Then, the panel, can be anything from glass to acrylic to vinyl, fabric, laminate and veneer — the possibilities are unlimited. "Even the glass can be frosted or clear or you can have a logo etched into it," says Shaw. "It's endless as far as the look goes."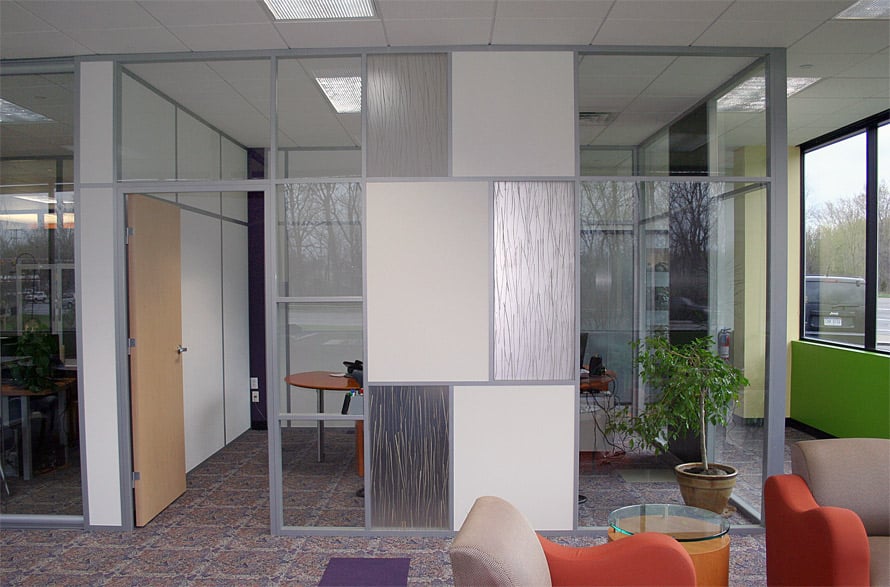 From adding little pebbles to the walls, or bamboo slots, to more luxurious options, like incorporating a waterfall, these pre-manufactured walls can be as creative as a business wants.
Even the shape of the wall isn't limited to straight lines, so businesses can create angles to give a unique shape to the room they are creating. "Companies are coming up with great technologies to give these walls curvable capabilities, so the connectors aren't just flat," says Shaw.
But it's the flexibility that make moveable walls additionally appealing. If you have to add or remove private offices, or configure small meeting rooms, or expand the size of your conference rooms, demountable walls can be a painless, no-construction option. It's as simple as popping them into place, or taking them down. For a growing business, this could be an extremely cost-effective way of reconfiguring a space.
"They really are being used more and more for the look and for the function equally, because they can be reconfigured," says Shaw. They can be cut, made smaller, and rebuilt — something that can't be done with drywall.
"Moveable walls are a great option for facility managers because they can reposition them to accommodate new and expanding departments," says Shaw.
And as new manufacturers enter the marketplace, the price point is actually pretty reasonable. Large furniture manufacturers carry new lines, as well as smaller businesses trying to be competitive and target a lower price point. "There are a lot of companies exploring moveable walls, setting the standard for what's new," says Shaw.
In addition to the multiple ways demountable walls can be configured, they are also eco-friendly. Businesses can earn LEED points for using moveable walls since the materials can be reused. That means cost-savings and tax benefits in many cases. What could be a better office solution than that?
For more information on how to utilize moveable walls in your office space, please contact Rightsize. One of our expert designers can show you how to save money and plan a flexible office space. We're here to help.
About Rightsize:
Rightsize Facility Performance, headquartered in Chicago, IL, is a nationwide office interiors and facilities services firm serving corporate clients in transition. Founded in 2004, Rightsize employs an industry leading "Design/Furnish" approach to ensure seamless workplace transitions and is a single source for interior design, furniture procurement, delivery and installation, asset disposition, facility decommissioning and ancillary project services. Through its Office Furniture Center brand, which includes OfficeFurnitureCenter.com and a 200,000-square-foot showroom, Rightsize also provides a single source for quality workstations, desks, seating, filing, conference and reception furniture.