There are a lot of things can go wrong in an office relocation, especially if you make these common mistakes.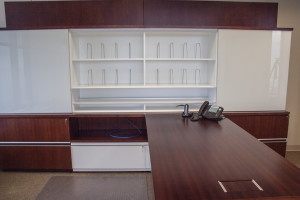 An office relocation is hard work. But when moving offices without the right team, Murphy's Law is the only one that rules, and there are literally hundreds of things that can go wrong. It's important to be prepared and engage a qualified team of relocation experts to manage the process—or at least to give you a solid idea as to how to adequately prepare. If not, you could be subject to one of many common office move disasters.
Common Office Move Disasters
Movers are uninsured. Sure, you might think that your old tabletop desks aren't worth enough to pay for the more upscale moving team with insurance. But during an office move, businesses aren't just liable for what's in the boxes, they are also liable for damage to the buildings, the elevators and more. If your movers show up and are uninsured, you might not even get the green light from your current office building to give them access at all. Make sure your movers are licensed, bonded and insured before they start loading up the truck.
No loading dock. Once the truck is packed up, the movers arrive at the new destination only to find that there is not only no loading dock, but no loading zone at all. Or maybe there is no elevator, and the moving team will have to haul those tabletop desks up two and a half flights of stairs. Suddenly, this unforeseen circumstance can add hours to the process, which means an increase in cost. Scary! The right team will scope out the buildings in advance to be prepared for any hiccups in accommodations.
The movers aren't prepared to re-assemble the furniture. Once you finally figure out the loading situation, your old furniture is in your old space and it's time to put it all together to set up shop for Monday morning. Turns out that while your movers could disassemble the furniture, they aren't going to put it back together. Either you have to fork over the big bucks to get the crew, that's already approaching overtime, to stay and help you out, or you have to call another service the next day. Ouch.
Furniture doesn't fit into the new space. Somehow you get the furniture assembled and it's time to figure out where everything is going to go. Since you rented a larger office space, you assumed that all of your old furniture was going to just fit perfectly. Turns out, it's not quite that simple. You have eight workstations that are supposed to fit in the open area, and no matter how many times you rearrange them, you can only manage to get seven in the space. So you adjust and move on, and hope that your design department doesn't expand anytime soon.
Workstations aren't properly wired. Now it's time to plug in the computers to the wiring. Unfortunately, there are more cables than there are desks, and it's almost impossible to figure out how to get each desk set up with the right server configuration so that it's wired to the network and also has phone and internet. Now, you have to go back to the drawing board and either move around the desks or call in an IT expert to try to sort this out before the work day commences. Having the office set up by Monday morning is looking like a pipe dream.
And that's just the tip of the iceberg for what can go awry in an office move. Bringing in an expert to help manage the relocation process can save your business from experiencing any number of the many possibilities for delay and unforeseen costs, while mitigating the risk of absolutely everything going wrong.
When it comes to an office relocation, Rightsize has the right tools to make sure that the process is seamless and cost effective. From space planning and IT services to facility decommissioning and warehousing, we are well-equipped to counter Murphy's Law.
About Rightsize:
Rightsize Facility Performance, headquartered in Chicago, IL, is a nationwide office interiors and facilities services firm serving corporate clients in transition. Founded in 2004, Rightsize employs an industry leading "Design/Furnish" approach to ensure seamless workplace transitions and is a single source for interior design, furniture procurement, delivery and installation, asset disposition, facility decommissioning and ancillary project services. Through its Office Furniture Center brand, which includes OfficeFurnitureCenter.com and a 200,000-square-foot showroom, Rightsize also provides a single source for quality workstations, desks, seating, filing, conference and reception furniture.