In honor of Halloween, Rightsize looks at what office design decisions will come back to haunt you
An office space with out of date decor and dingy, stained walls and flooring makes being a guest in one of these spaces a pretty scary thing—not to mention having to permanently office there as an employee. Not only does it send the message that the business is behind the times professionally, it makes it seem like the company as a whole may be run by zombies. In honor of Halloween, Rightsize shares just what makes an office space give us the heebie jeebies.
Photo Credit: mthrufriday.com
Outdated Color Palette. In the 80s and 90s, the color palette of choice combined mauve and hunter green. Now they scream that the office space hasn't been updated in twenty or thirty years, which is a scary thought for any business model. If your boss is rocking the mauve and hunter green color scheme, it's time to recommend a color infusion ASAP.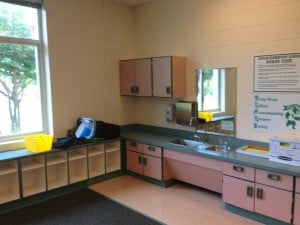 Bad Lighting. There are few things as uninspiring as bad lighting in an office space. Old, dirty fluorescent lighting belongs on the set of a horror movie, not as part of a quality business model. Get out the Windex and clean out the dust that's been accumulating since electricity was invented, or ask your landlord for an upgrade.
Dirty Carpet. The carpeting of an office space should never look like it's absorbed a murder scene. With big stains and tattered edges, dirty carpet is a sure sign of a space well traveled, but it doesn't exactly bode well for consumer confidence. It's time to swap out the old carpeting for something new or call in the cleaning crew.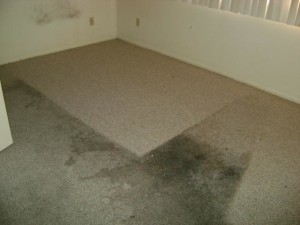 Stained Workstations. The panels of a workstation should be vibrant and clean, not stained and torn. Have the panels re-upholstered to add longevity to the workstations—that is, if the rest of surfaces aren't covered with coffee and ink stains too. If the workstations are ready for the graveyard, don't be sad to send them on their way and invest in something new.
Clutter. When every corner and every shelf is stacked to the brim with contracts and paperwork from the year Taylor Swift was born, the dust and clutter can instantly make the space feel like a paper wasteland. How about all of the dead plants scattered around the office and the boxes of empty tissue. Host the great office cleanout sometime before ringing in 2015 to give your space an instant facelift.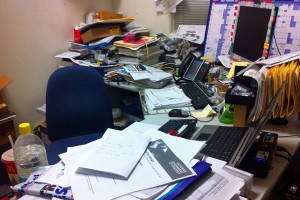 Whatever ails your business, it's time to say goodbye to the scary trends that haunt office space that hasn't been updated. If you need help getting started, Rightsize has a team of fantastic designers who can bring your office space from a house of horrors to a beautiful space that promotes productivity and comfort for all. And that's not a scary story.
About Rightsize:
Rightsize Facility Performance, headquartered in Chicago, IL, is a nationwide office interiors and facilities services firm serving corporate clients in transition. Founded in 2004, Rightsize employs an industry leading "Design/Furnish" approach to ensure seamless workplace transitions and is a single source for interior design, furniture procurement, delivery and installation, asset disposition, facility decommissioning and ancillary project services. Through its Office Furniture Center brand, which includes OfficeFurnitureCenter.com and a 200,000-square-foot showroom, Rightsize also provides a single source for quality workstations, desks, seating, filing, conference and reception furniture. For more information please visit www.rightsizefacility.com.